Digital Marketing Ops Executive/Manager at Pulse Business Gurgaon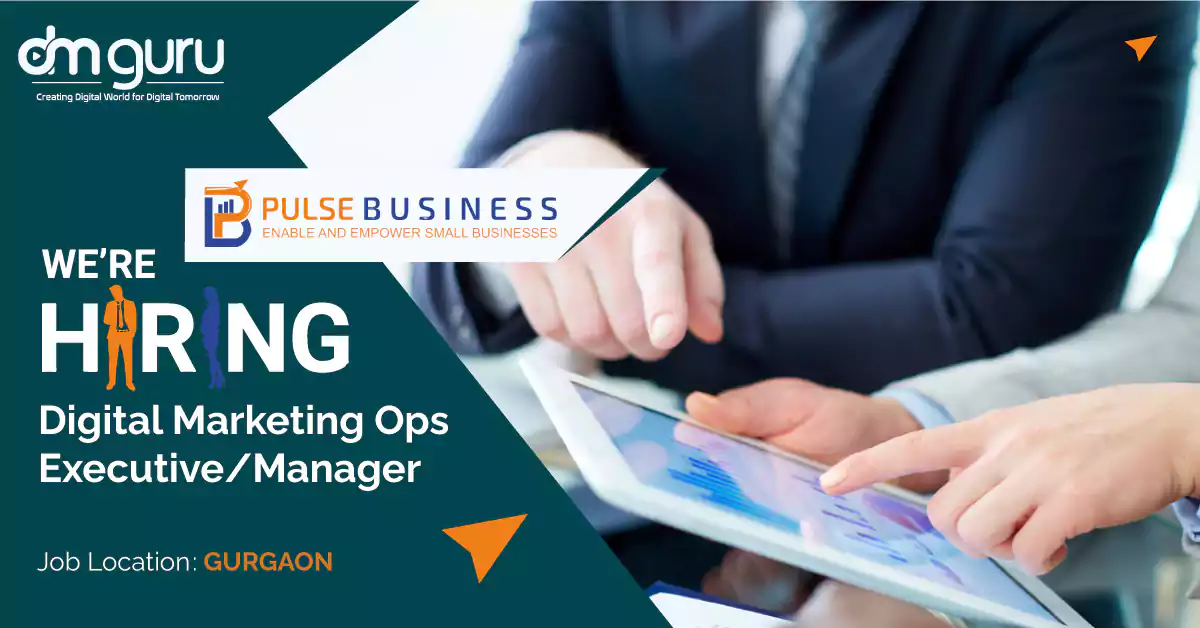 | | | |
| --- | --- | --- |
| Profile | : | Digital Marketing Ops Executive/Manager |
| Job Location | : | Sector - 86, Gurgaon |
| Hiring Company | : | Pulse Business |
| Work Duration | : | Monday to Friday; should be flexible as per job requirement |
| Education | : | MBA-Marketing, with digital certifications (Advantage) |
| Remote Work from Home Available: | : | Yes, possible but not completely; office attendance required at least 3 days a week |
| Remuneration: | : | Negotiable based on candidate's level of expertise |
Responsibilities & duties :-
Lead Generation
To act as an ambassador for the business, and promote the centre and its products.
To be responsible for generating leads on a daily basis using data provided.
To work closely with the Sales Manager and Sales team to ensure leads are generated within various business sectors.
To convert the calls to new business leads.
To achieve agreed personal and departmental targets captured from calling data provided.
To inform potential client's on the company's products and services.
To gather relevant Corporate information.
To use company databases to gain potential leads.
To be proactive in identifying opportunities for new business.
To input and maintain guest information onto the company database.
To ensure guest satisfaction at all times.
To build relationships with colleagues and clients.
To deal with clients in a professional manner at all times aligned to our brand values.
To ensure service is prompt, polite and professional standards are kept.
To assist with other departments as required.
Operations
Managing end to end lead generation requirements and Solutioning
Analyse the need of the prospect and present a viable digital solution
Build, Manage and drive lead generation funnel/Pipeline
Create and manage user stories for backlog creation on tools and manage the user stories and task for the respective sprint
Manage the delivery of the scope of work on projects as per the agreed timeline Participate in requirement analysis session and seek required clarification
Work closely with the client IT manager and help reporting weekly status and project updates.
Works with client business and IT manager to establish and gain consensus on project goals, objectives and deliverables
Engage in requirement analysis and convert user requirements to functional requirements
Engage with CXOs on a regular basis as part of client delivery as well as proposal development
Manage relevant client stakeholders in complex and intense consulting assignments
Participate in pre-sales meetings, proposal development and related efforts
Mine existing clients for additional business opportunities and drive aggressive sales efforts
Ensure project economics by managing invoicing, collections and managing project expenses with the team
Transform technical information and processes into compelling stories
Prepare documents/ presentations by interpreting and evaluating text, graphics, and raw data
Create crisp and compelling content basis the project brief and data gathered through research
Develop business and functional collateral for technical sales plays and campaigns
Review as well as copy edit content for plagiarism, accuracy and relevance
Meets deadlines by establishing priorities and target dates for information gathering, writing, review, and approval
Analyse the market trends and discover new opportunities for growth
Keep abreast with the latest trends in the Digital Marketing/ Marketing ops sector
In addition to the above main responsibilities, the Lead Generator will be required to undertake any other task, deemed to be appropriate to the job role.
Who can apply :-
Experienced Digital Marketing consultant experienced in Services/products relating to Campaign, Analytics, Target and Experience on Digital Platforms
Previous Experience in a Digital Marketing Operations/ Campaign Execution and sales Preferred.
5-10 years of experience in Digital Marketing Operations/Delivery/Sales
Delivered engagements in the areas of Shared Services, Technology Strategy, Digital Reinvention/ Digital Marketing
Experience in working with C level executive clients
Excellent communication and interpersonal skills; Strong client-facing and communication skills
Strong presentation development and Customer Presentation skills; Strong facilitation skills to tailor delivery with stakeholders
Willingness to travel and flexible to adopt to a demanding lifestyle; Enthusiasm for working in a high profile, fast-paced startup culture.
Ability and willingness to work on short deadlines; Strong organizational skills with a problem-solving attitude; Strong listening and storytelling skills.
Responsible, responsive, proactive, willing to help, ready to resolve issues.
Responsible and self-motivated
Strong analysis skills; Ability to learn new technologies; Ability to multitask and prioritize between competing activities
Expertise in MS office - Excel, Word & Power Point documents.
About The Company
Pulse Business is a Digital Marketing & Development firm with eyes firmly focussed on Niche such as Online Reputation Management and Lead Generation Services. We have been growing our team since our inception in 2018. Today we are a 12 member team with development team of 8 members who are based out of Noida/Varanasi. Digital Marketing operations are managed at Gurgaon office with a strong team of 3 People.
We have been Growing our revenues at a pace of 200% since last 3 years. We intend to clock a revenue of 2 Cr this year with major focus on business development and digital Marketing ops
Contact Details

Name
:
Pulse Business
Contact
:
+91-8302585401
Website
:
https://www.pulsebusiness.net
Location
:
#1 TF, SS Omnia, Sector-86, Gurugram, Haryana, India
Digital Marketing Ops Executive/Manager at Pulse Business Gurgaon
Click Here for More Jobs in Digital Marketing Ops Executive/Manager - SEO SMO PPC Google Adwords Wordpress
We are Helping You to Find Best