What Is The Difference Between Growth Marketing & Digital Marketing?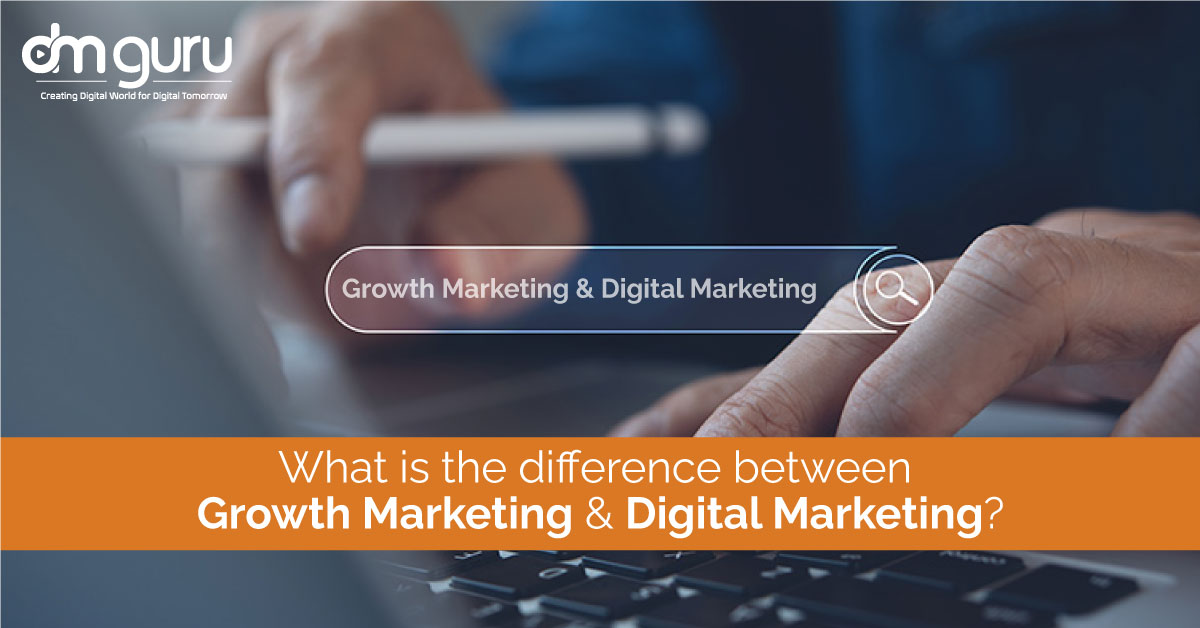 In the marketing world, every agency has a different claim to fame, and all of them say that their strategy is way different from others. Often growth marketing, growth hacking and digital marketing are confused with each other. You are on the right page if you are looking for all the answers to all of these questions. No doubt, digital marketing has been a buzzword for quite some time now, but growth marketing, even though it is a new term, has gained a lot of prominence. One of the most significant differences between growth marketing and digital marketing is its methodology.
Digital marketing is mainly a set of marketing strategies that are digitally applicable. Be it SEO to email marketing or PPC; everything is summed up under digital marketing. On the flip side, growth marketing is a marketing method that is likely to place a great value on data analysis, goal setting and testing and experimentation. Often growth marketing relies on some digital marketing strategies. You need to know that the main goal is to deliver the best possible growth for a company.
Several companies are likely to find it challenging to target their audience and make some money at the initial stages. Some factors, including finances, entrepreneurial prowess and scaling speed tend to define the pace at which one can achieve success. Another factor that contributes to your company's success is marketing. You need to consider whether your company uses the right marketing strategy to create perfect brand awareness or loyalty. With the stiff competition in the market, companies are likely to spend a lot of time and money on marketing strategies to capture the target audience.
With several marketing channels and strategies, including growth marketing, Digital Marketing and growth hacking, companies find it challenging to stick to the right marketing strategy. Businesses need to come up with good marketing plans to scale their operations and growth, knowing that a standard buyer is often bombarded with frequent marketing messages on a daily basis. There is always a lot of confusion stemming up from the start up's when doing things against typical project management of established companies in the real world. In simple terms, it is all about growth marketing vs digital marketing.
Essential Information About Growth Marketing
Growth marketing is all about an all-encompassing marketing technique that aims to retain and acquire patrons by targeting all the stages included in the customer's journey through various marketing channels. The marketing strategy serves unique needs, pain points and users' queries with creative and data-driven strategies. As a process, growth marketing mainly ensures a complete reevaluation of the company can access, convert potential patron base and retain the current clients. Growth marketers mainly focus on business growth and apply out of the box strategies to find new ways to improve a company's scale.
They also use quick recalculations for learning new buyer journey experiences. Even though growth marketing is similar to growth hacking, they are different. Growth marketing is all about the complete consumer buying process and looks for ways to enhance it. It doesn't focus on any single channel, but it includes several channels to achieve maximum results in a minimum time. The growth marketing niche has become quite sophisticated as marketing technology has enhanced.
Things you must know about Digital Marketing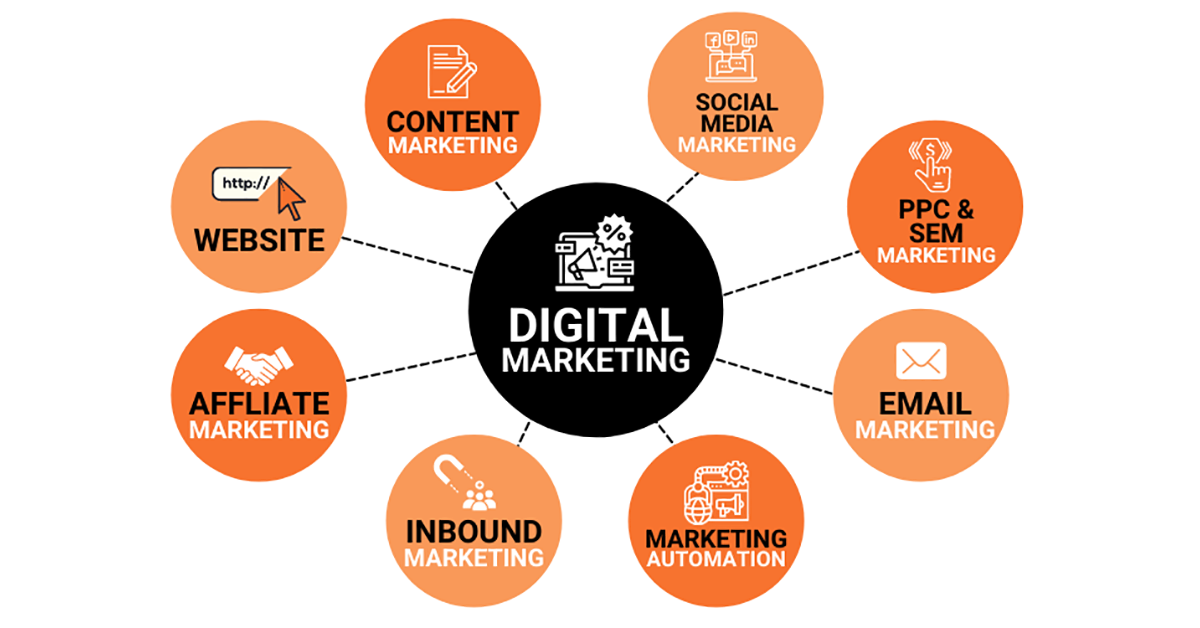 Digital Marketing is all about marketing through digital channels, including social media and mobile devices. The digital marketing strategy also includes building relationships between patrons and brands to boost the conversations rate in no time. It includes targeting and capturing new patrons through better brand awareness. Digital marketers also focus on creating relevant content, multi-channel engagement and search engine optimization to help companies achieve their marketing objectives. Digital marketing expands the outreach of services and products and creates a fantastic market for them, and it mainly serves the first stage of any sales funnel.
Are there any similarities between growth marketing and digital marketing?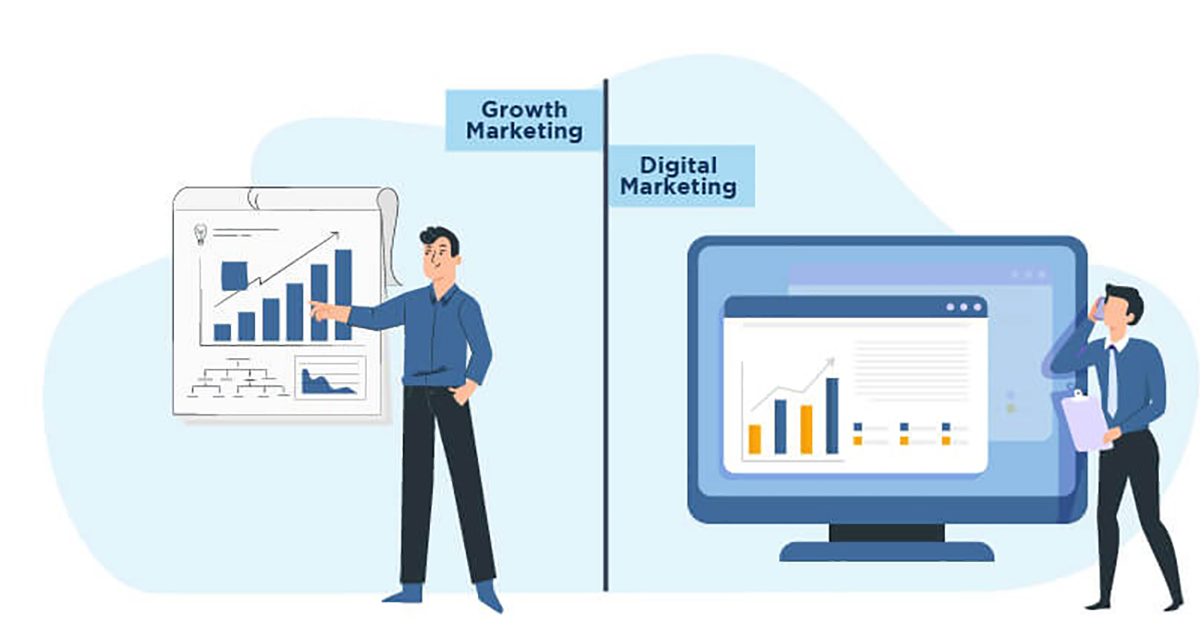 Yes, there are some similarities between growth marketing and digital marketing. Both digital marketing and growth marketing are excellent tools for companies as they ensure short- and long-term strategies to client's relationships and overall success.
Some of the major Differences Between Growth Marketing and Digital Marketing are
In digital marketing, a company mainly focuses on capturing a new target audience and converting them into permanent customers and engaging them to effectively boost retention rates for any company. But growth marketing is all about how you can use your current customer base to drive additional incomes and referrals.
For example, social media, emails and search engines growth marketing uses a strategic mix of digital marketing channels and typical marketing approaches to retain their business patrons.
Typical digital marketing features some strategies which go through a predetermined budget. For instance, they generally include AdWords and display campaigns that align with primary ad copy. Digital marketing strategies are likely to successfully enhance online traffic and drive the business to stay top on the sales funnel. On the flip side, growth marketing goes beyond the funnel's top. It mainly gives priority to the complete funnel, and it can attract the target audience, retain and engage them. It can also turn them into champions of any brand.
Hence here you can understand the major Differences Between Growth Marketing and Digital Marketing. Once you are clear with the basics you can surely better implement the terms in real life examples.
---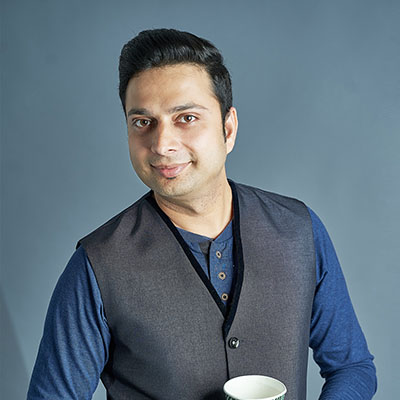 Author Sachin Gupta - Digital Marketing Consultant
Website: www.sachingupta.in
Read More: About Sachin Gupta