Email Marketing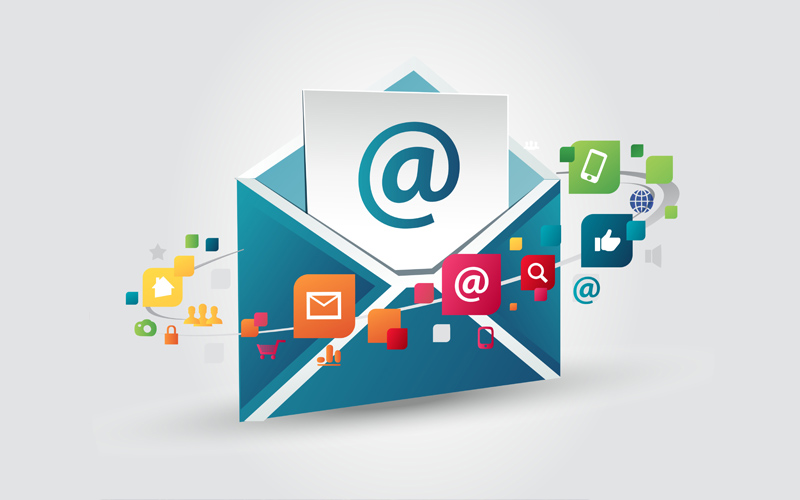 Email marketing is a way of marketing directly through electronic mails. It sets communication with the audience using brand commercials and fundraising messages. It allows you to send personalized emails to existing customers based on their interest and invite potential customers with commercial emails. This cost-effective method of marketing comes with flexibility in design that allows you to send text messages, imagesand other files as attachment.
Following are the basic purposes of email marketing: –
Strengthen the relationship between customers and the brand.
Acquire new customers with linked interests.
Convince existing customers for a new purchase.
Small and large businesses need to adopt email marketing to enhance their business parameter. Why? Because 80% of marketing executives believe that email marketing is an effective method to acquire new customers as well as retain the existing ones. It can prove to be more effective than social media marketing on Facebook. As people check their email inbox more often than they engage on your Facebook page. Plus, it gives a higher conversion rate.

Why Email Marketing?
Yes! Obviously email marketing is beneficial and great for a personalized approach. But with so many modern marketing practices available today, "Why email Marketing?" Right? To discard this thought we list some advantages to state why you should include email marketing into your marketing strategy for a better ROI.
Cost Effective: Email marketing is an economic option. You can run your email marketing campaigns by yourself or with the help of an email marketing agency. Whatever way you choose, it is going to cost you less as compared to other advertising mediums.
Target Specific: The best thing about email marketing is that it can be personalized. It allows you to specifically target the consumers depending on their interests. This feature along with the cost-effectiveness, takes high the ROI.
Measurability: It is easy to track customer response to an email with the modern analytics. This helps in judging the campaigns for loopholes and the parts working good for business. You can then make changes accordingly for a better result.
Flexibility: Emails are flexible. Yes! You can do so much with an email – send text messages, images, attach files etc.
Transactional Emails: It helps in sending emails to your customers whenever they make a purchase, making them feel valued.
Moreover, email marketing has evolved in several ways as one of the most effective marketing tactics in last few years. These include: –
An increased ROI (Return on Investment)with easy to track methods.
A considerable number of customers, who have opted in to receive email updates from interest fields can be reached through marketing emails.
Helps in making a personalized approach to consumers via email messages based on their relevant interests.
Transactional emails facilitate automatic response to important consumer events like purchases, shop-cart abandonment etc. adding value to their customers.
However, email marketing may serve a disadvantage if not balanced moderately. Sending irrelevant and copious amount of emails can result in rejection or spamming of the emails by receivers. This condition is slightly reduced with "Opt-in" emailing. With this idea, the customer consents to receiverelevant emails and unsolicited spam emails.
Effective Use of Email Marketing
Now, when you know the reasons to include email marketing in your business strategy, definitely you would want to know – "How to make best use of Email Marketing?"
The key steps to follow while walking through email marketing: –
Welcome! A creative and engaging welcome email when a customer signs up for your brand can leave a brand mark on your customers. It will not only show your gratitude to the subscribers but also leave them wanting more. Moreover, welcome emails increase the rate of recipients opening up the email. This enhance engagement with customers.

Stay in Touch! This is an important activity that you need to take care of to stay in contact with your customers. Thus, it becomes important that you send nurturing emails to your subscribers. This will prompt the receivers to request a demo or have a chat with you.
Below we list some amazing ideas to help you execute a creative email marketing plan for your business.This is how it goes: –
An apt design- It constitutes the creative of an email which includes the layout, images and color used for designing the email. Ask your customers what they like. Yes, it is a good idea to know the choice of your customers if they would prefer emails in text or HTML.
Personalized emails– Targeting your customers with emails relevant to their interest will increase the effectiveness and the receiver response rate.
Offer incentives– Yes, you heard it right! Offering something in return to customer reaction is a great way to acquire customer interest. Recipients always look for rewards.
Consider timing– Timing plays a major role. Schedule appropriate timings for your email that suits the recipients. Avoid sending mails at night.Not just the hours, it also includes selecting the appropriate days and months depending on the content of the email and the most profitable time for it.
Integrate marketing- Obviously you cannot rely on just one method of marketing. Also, using several marketing mediums with differentiated campaign is not a good idea. So, the best practice is to integrate your marketing communication. This will let all your promotion activities to work together and create a greater impact. Launch your campaigns on similar timings and with the same images and texts.


Organize– While copywriting your emails, it is good that you consider everything from the subject line to your mail signature. Do not leave all important links for the ending note, use some of them early to grab impulsive receivers.
Decide on attributes– It includes the email header, subject line, address, date/time of the format. It's good idea to trial & test your campaigns to find which attributes work well for the customers. As customers may spam some of the attributes. Hence, it is better to find which one works best for your business.
Take them to landing page- If you want your receivers to turn into consumers, take them to the right landing page and not just the home page. This will increase your conversion rate.Also, make the registration process quick and easy.
Email marketing is an essential component of marketing and can prove to be importantly efficientfor many industries.It creates a connective bond betweenthe brand and the customers. Make it worth reading and save yourself from getting spammed.
We list
Top 10 Email Marketing Tools
that will help you in effective execution of email marketing strategy.
HubSpot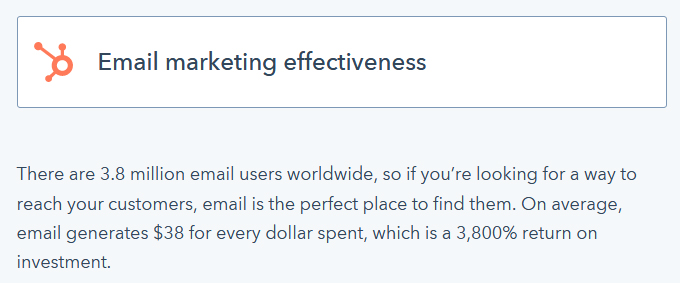 This software tool is a wholesome package for sales, inbound marketing, CRM and email marketing tools. You can efficiently use it grow youremail subscribers. It keeps away complex merging and helps in making a personalized approach specific to the brand. Some of the features of HubSpot include scheduling, testing, optimizing, contact database and email lead nurturing. You can also craft personalized email templates and judge performance of your campaigns.
You can start using the tool byplanning email distributions and then proceed to update your list of subscribers. Later, depending on the customer behavior and interests, you can customize your approach and guess what, you don't need any coding skills!!
Marketo

This marketing software has a set of flexible features that can fulfill the needs of medium and large enterprises. Marketo can be used for marketing automation, management and to enhance customer engagement using the customizable features. It comes with a tool for testing variant content for the emails. Further, you can sync sales activities with marketing by using CRM integration that the tools offer.
You can craft eye catching email templates skipping the HTML skills as the tool uses drag-and-drop user interface. You can easily manage emailswith the help of pre-defined steps, actions and timing. Plus, the emails can be easily shared on social channels with"Forward to Friend" feature.

It is a great tool for small enterprises. You can easily create attractive content for emails. Being a strong marketing automation tool, it offers modernized features of messaging and email. It allows easy testing of the content that includes the header, subject lines, and text information sent to the audience. Further, the feature of segmentation (based on contacts' demographics, page view history, purchase history and custom fields) facilitates optimizing the content based on user interest.
The email scheduling of the tool is really great. It automatically sends user an email based on the user activity and action. This supports making a personalized approach at effective timings.
iContactPro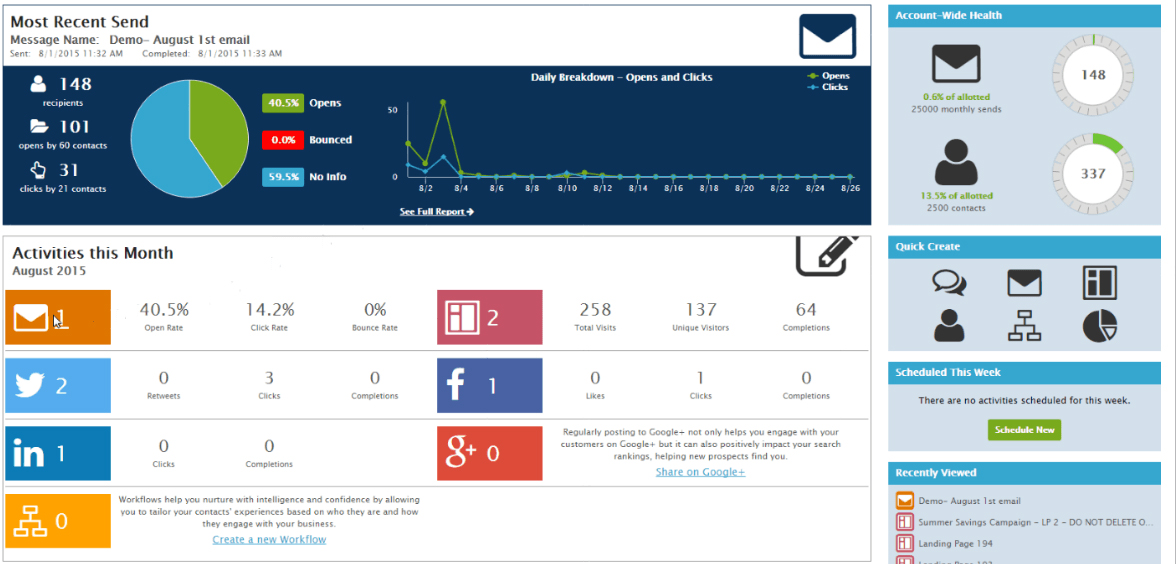 This software comes with features such as advanced email marketing, triggered messaging, segmentation and tracking. It offers easy scheduling of campaigns over Twitter, LinkedIn and Facebook. Plus, it allows sharing on social media platforms, creating a desirable landing page and CRM.
With iContactPro, you can easily manage large customer base with the help of list management tools. You can create messages and use features for segmentation and A/B testing.
Mailjet

This tool helps you to send and receive marketing emails. It allows you to send multiple emails in a single day and use analytics system to track the database and mailing lists. This will further serve you to target the right audience at the right time.

You can easily customize the message content depending on the surfing habits, purchase history, interests, location, etc. of the prospective customers. Moreover, this tool minimize the chances of spamming under the guidance of delivery experts. You can use past email campaigns to improvise the current plan. You can also depict the element that is driving higher customer engagement.
Constant Contact

It is a user-friendly tool to manage email marketing campaigns. The tool comes with a wide range of email templates, different methods for uploading contacts, and also training materials. Also, you can integrate email marketing with social media campaign using Social Media Playbook feature. It offers affordable package pricing that is suitable for small businesses and startups.
Constant Contact allows you to develop a list of contacts from multiple databases (Outlook, Gmail, and spreadsheets). It also supports mobile interface.
AWeber

This is a great tool to automate personalized emails to your customers along with follow-up messages. Therefore, it helps in developing relationships with customers. It is known as a product for professional email marketers. It offers integration with popular software such as LeadPages, WordPress, PayPal, Salesforce, Zendesk etc.
With this tool in your system, you can create personalized list of recipients and design attractive campaigns. This allows you to manage your email subscribers more effectively. It also provides insights on customer behavior, surfing pattern and purchase history.
Mail Chimp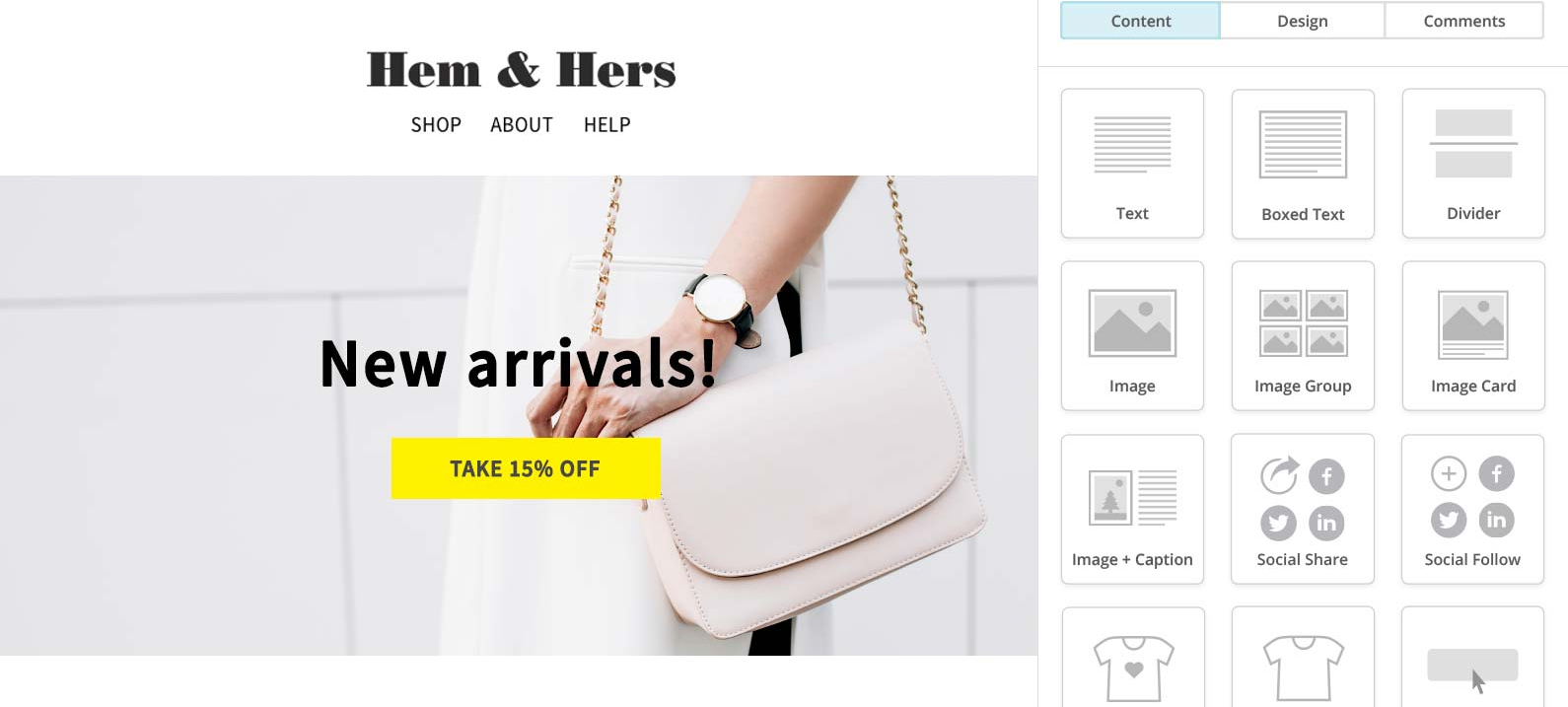 This toolefficiently manages high email volume for large businesses and offer marketing solutions in budget to small enterprises as well.With use of technology and the analytical tools it offers, you can effortlessly engage prospective customers, promote your products and services leading to increased sales.
Mail Chimp offers template options that can be instantly used to develop newsletters and campaigns. Also, you can segmentyour email subscribersfor effective targeting of messages. The tool automatically sends newsletter on submission of a new blog, using RSS-to-email feature. You can easily track the performance of your campaigns using reports and analytics.
Passendo

This tool is best suitable for advertisers and publishers. As, it benefits the advertisers by targeting ads in quality editorials that has long view time per landing page and a negligible bounce rate. It efficiently controls email ads as it ensures that it works efficiently for the target audiences, good frequency control, location control andeCPM optimization.

It supports the task of a publishers by transforming digital newsletters to profitable content, offering strong monetization and finding outsuitable revenue opportunities. Also, offers integration with other campaigning mediums and various email templates.
Dotmailer

It is specifically designed to match the marketing needs of email marketing professionals. The tool comes with auser-friendly interface, let you craft emails, schedule marketing processes, and test email content. It offers a quick process of sending emails with its drag-and-drop template.
Dotmailer comes with various features that makes it a dynamic tool for marketing. You can handle data, craft effective campaigns and manage marketing operations.
About This Page
email marketing tips, how to do email marketing, email marketing benefits, Top 10 Email Marketing Tools, Why should i do email marketing, what is the purpose of email marketing, Effective use of email marketing, free email marketing tools, which is best tool for email marketing,
---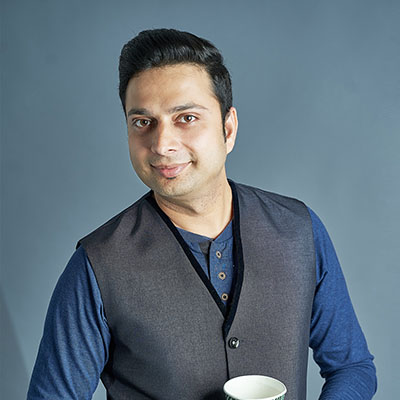 Author Sachin Gupta - Digital Marketing Consultant
Website: www.sachingupta.in
Read More: About Sachin Gupta