Plan Your Online Reputation Management Strategy?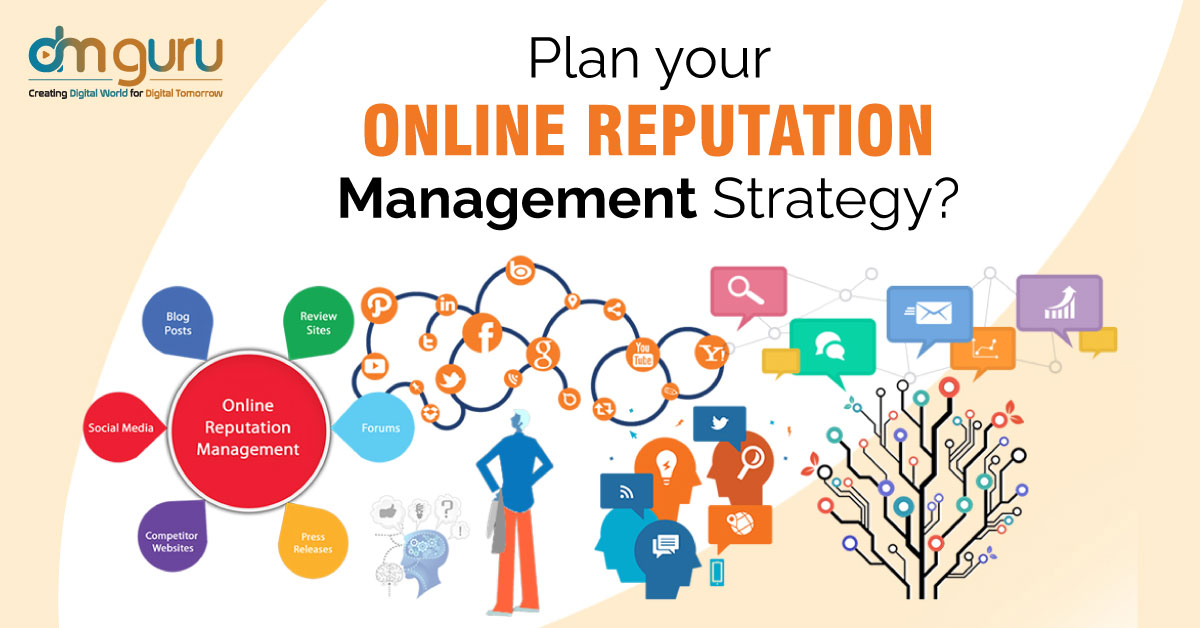 We know- What is online reputation Management, cycles, Types, Its assessment tools, and assessment process. Here our task is to plan a strategy to improve the Reputation online and to sustain the same to get the constant business or leads. Before stepping forward, just analyze the most important factors which are:-
What will be more impactful
What Primary goals you want to achieve
What comes easiest to you
How much realistically you can do
Figuring out the above-mentioned figures will surely work positively towards attaining the successful ORM plan.
Step by step ORM Planning strategy is given under:-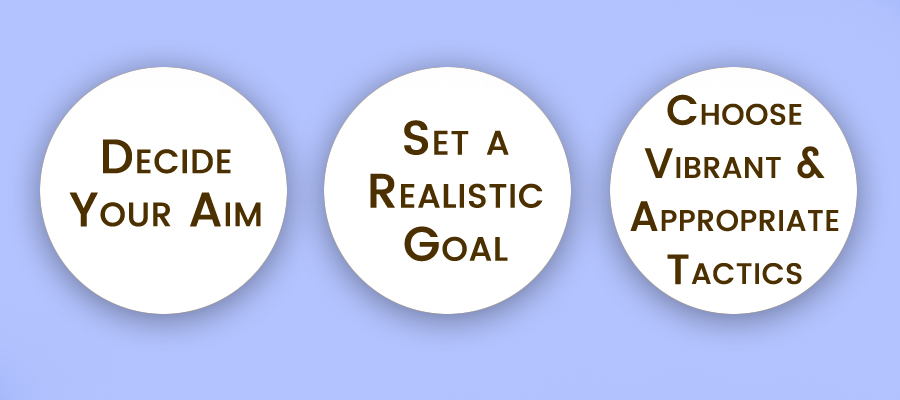 Decide Your Aim: Your target will be based on the search results you have through different keywords and different search engine. For eg. "DM Guru" has 110 monthly search volume which has positive searches and controllable results as well. Whereas "Digital Marketing Guru" has 260 per month search where DM Guru stands on the 2nd page? Which means we need to focus on later. DM Guru has positive searches yet, we need to work on the maximum search volume. Likewise, before starting for ORM activity, just set the target based on your collected data.
Set a Realistic Goal: ORM is human in nature. Whatever one proceeds, the human will spread the same. For eg, if we have positive reviews and link on first page results, users will click it on and will increase its authority. Likewise, if we have negative reviews or comments on the first page, more clicks will promote the same and it would be hard to drag back. Create success on first page results and then let the users promote it. User's behavior sends the search engine a signal to promote the relevant URL. So if you have negative reviews, to set a goal to drag back to the second page. if you have less number on reviews on GMB, set a goal to increase the same. Working towards a realistic goal helps to plan the ORM strategically.
Choose Vibrant & Appropriate Tactics: Tactics will be based on your present situation. If you have presence nowhere, you will have to start from the very beginning. Small things can bring a great impact. Whereas if you have some threats in online presence, you will spend time and money to resolve them. If you are good in writing, you may start the blog and start doing content marketing. If you are not good in the Content part, you may take the help of other resources such as Youtube, Twitter, and other Pinterest account.

If your goal is to maintain the Good reputation from the very beginning, you will utilize the complete sources, and if the motive is to trash back the threats. a specific approach will be used. Find out the various sources to write the content or success which are:
Create a Website first. If you already have a website, make sure to have "About Us" under this.
Create Social Media Profiles on Facebook, LinkedIn, Twitter, Pinterest, Instagram, etc and update the same on a regular basis
Viral Photos and Videos as search engine crawls the content received in different formats. Take help of Youtube, Flickr, Instagram, Pinterest, etc and use the content which can help maintain a positive reputation. Even users love to watch the videos and Infographics instead of boring study material.
Public Forums & professional sites have a great role in contributing the knowledge and publicizing the content. If direct sign-in or content uploading is not allowed, the help of a guest post can be taken.
Find high quality of Directory, Business listings and Classified sites where one can get the authentic identity with complete control. Mostly these sites are free and can offer quality information to the users
There are too many documents sharing sites are available through which you can share the PPT, Document, PDF adhering the relevant information and web links. These documents can bring positive impacts and this maintains the professional presence.
Last, but not least, the Press release has a great role to popularise the company and its content for the long run. There are various free PR sites available to post the content, else help of local PR wires can be received at the lowest cost.
1. Content Creation: You know your target and supporting material as well. Once you are sure about the tactics, you will design the same with a beautiful image and professional content. While creating contents, follow the simple yet useful tips which are:-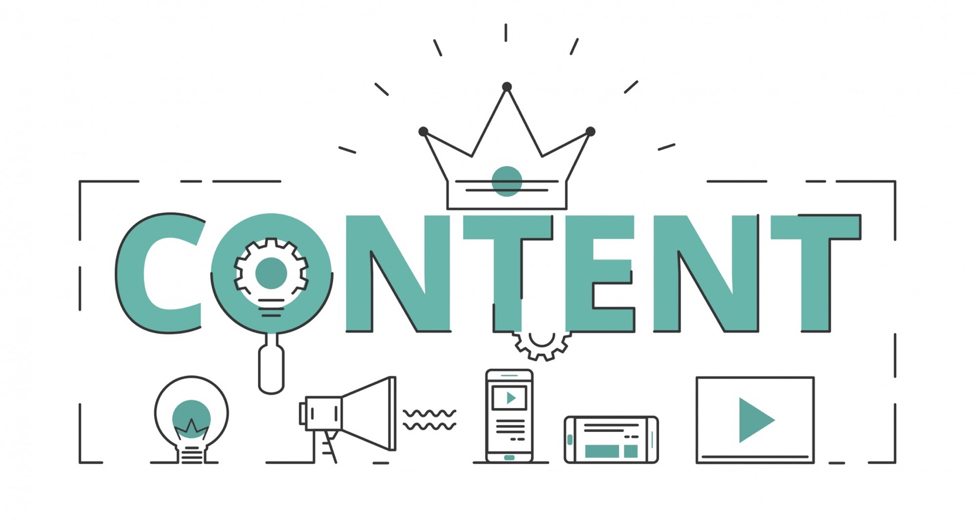 Avoid keyword stuffing as it may penalize your website. Decide the main keywords, Put them in Meta title & headers, use the Keywords naturally under the content. To promote Image or video, use the keywords under the Profile URL, in the description, files names and alt tags.
Search engine prefers lengthy and quality contents. Do not lead the users to click the back button instantly as it creates a bounce rate. Create eye-catchy, relevant and unique contents which lead the user to sustain for a long time. For a blog topic, 2000 words are ideal whereas for the images & videos, use enough material to make it optimize -friendly
Write Topic friendly Contents only as it should not be misleading. To attract and sustain the users, one must write what they are looking for such as Professional materials, area of expertise, biographies, etc.
Be it website, blogs or any platform, utilize all the MetaData sources such as title, description, alt & anchor tags, heading tags, etc. It makes crawling easy and relevant.
Everyone wants uniqueness or originality. If you keep posting the same stuff everywhere, the chances of visits will be low. Users want innovation, so ideally focus on a different aspect of life.
To popularise your content and images, Create Quality Link building. Link social profiles and website, promote interlinks on relevant keywords, Link pre-existing contents with new sites, ask other site holders to link with their own sites to legitimate the content according to the search engine.
Creating the content is not enough, enhance the quality and its importance with using the right tactics.
2. Set a Milestone: Planning and organizing the things are the key success of planning execution. Follow a realistic approach on a consistent basis to achieve the targeted goal.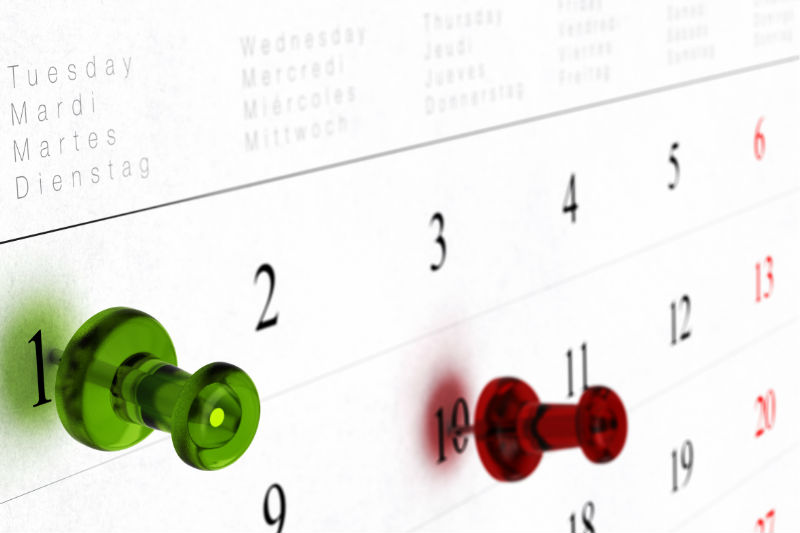 Calculate the amount of Task: figure out how much you have accomplished and how much you are required to do. To achieve the milestones, Create blogs & generate Visitors upon that, Bring image or video on first-page search results, shift one search item with something you created, take your Twitter account on the first page, etc. The number of tasks will depend on competitiveness. This is the baseline to sustain the brand image and regular work is required to get the measurable results.
Content Calendar: Make a plan on content posting based on the duration and interval of content posting. If we are working on the blog, social media and youtube simultaneously, Our content calendar will remind us to post which content and when. Consistency of content posting can help to achieve the set milestones.
Reports: Gather the results by taking timely screenshots of the search results and note the time. Evaluate the progress and measure it by taking time, content and other factors into consideration.
Monitoring the Progress and Tactics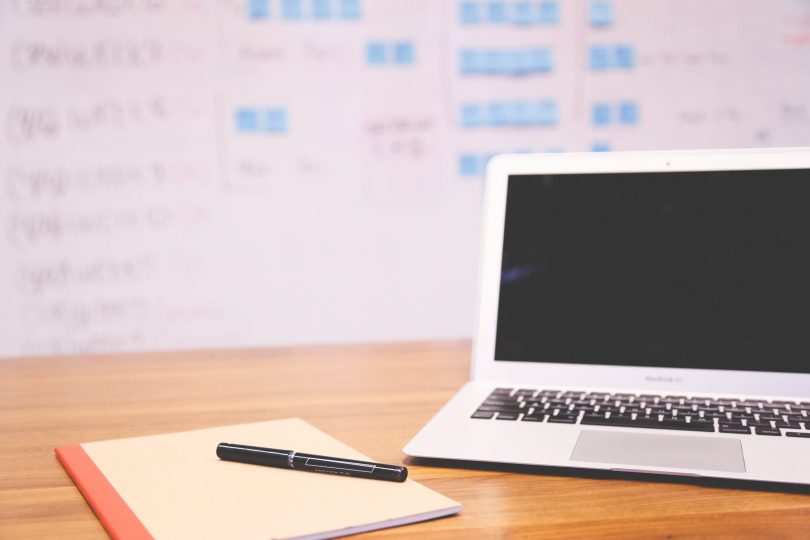 Drawing a plan and implementing the plan is not enough, one should keep a regular eye to measure the results and progress thereof. To monitor the progress, you must have the following details with you all the time:-
Search volumes of the keywords or keyword
Last and current positions on search results
Publication dates of materials
the date on which you achieve targeted milestones.
Reviewing the results will help you to set another schedule and milestone. If your blog is performing well, you can focus on video or vice versa. Always remember, Posting content can getting crawled in algorithmic work, whereas reputation management is human work in which you can see quick progress and then regression later. These variations are normal. One month performance is not sufficient, mark 6 months activities and then check for the significant improvements. If your planned strategies are not working well, try something different.
Sometimes, the right strategies are not giving the fruitful results so need to look at the different scenarios and learn to deal with them:-
Instant Results disappear soon: We have published the contents which shown instant visibility. but quickly results vanished off. Just have a check, revise or refine the contents, increase the length, use synonyms, use rich media and then see the results. Boring stuff and bounce rate may lead the results vanished off.
Few Items are Visible: We posted more blogs and videos and still, some of them are showing up. In that case, we are required to make more links and to optimize those links which are not visible. Ask for third-party help.
Unwanted material is Showing Up: Competitors become active and they start publishing the unwanted feedback, reviews, and contents. Starts making more efforts and increase the number of publication activities.

Conclusion:
We have grabbed the idea about the online reputation management and the effective plan thereof. If you are working constantly, you may see the progressive results by the time. But while putting and spreading contents, Keep into consideration the following factors:-
Quality Backlinks: While creating backlinks, always consider the quality score of the website. More links will target more traffic, whereas more quality line will lead to a higher rank. Check for the quality link holder and ask for their willingness to link your site.
Content Uniqueness: Do not copy the contents, grab the idea about the trend. In fact, while posting the stuff on social sites, try to post different stuff.
Consistency: Maintain the constant quality as Online reputation management plans generate high-quality contents. If everyone is spreading the same statements, people are more likely to believe it. 5-star reviews and positive feedbacks bring better and positive results.
Authority: Use Blog and Video Sites where you can maintain the presence for the long run, which can offer you complete control and which are authentic in nature. So start early managing the reputation and you will end up with a positive reputation.
Prevention is better than Cure: Be proactive, invite the right audiences to visit your sites. Do not allow comments on open sources. Taking preventive measurements will make the competitors harder to create misleading and negative contents to jump on the top results.
Work better and get the Online Reputation Far Better!! Happy Planning :)
About This Page
Build Your Reputation Management Plan in Easy Steps, reputation management action plan, online reputation management action plan, Online Reputation Management Strategy Guide, How do you manage your online reputation?
---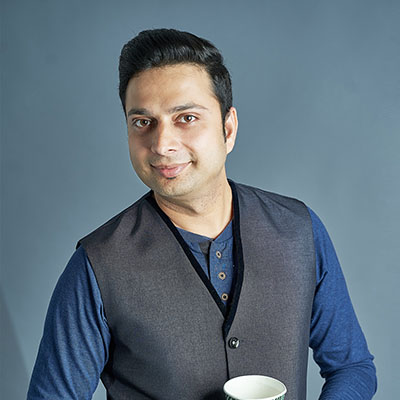 Author Sachin Gupta - Digital Marketing Consultant
Website: www.sachingupta.in
Read More: About Sachin Gupta