Identify The Right Keywords With The Right Tools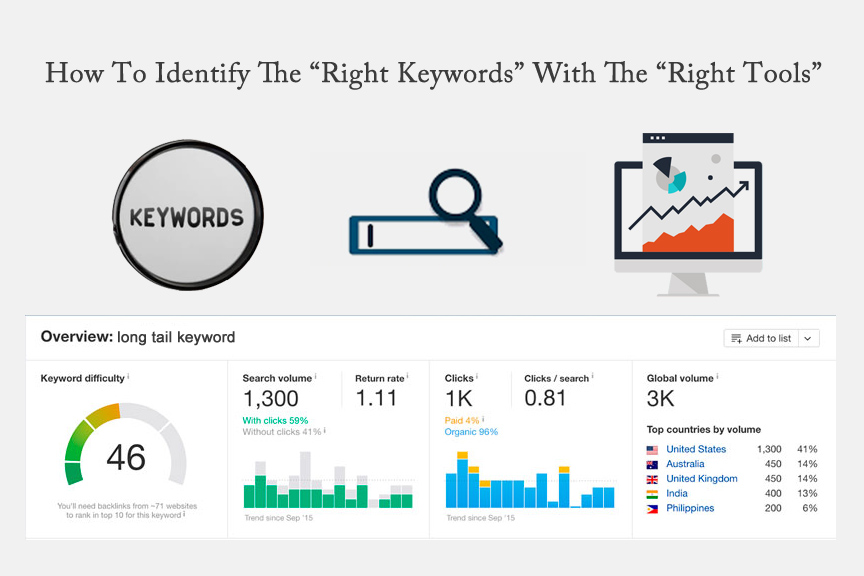 "Keyword Research", is a science and an art and it is really important to understand and learn that how it works while practicing search engine optimization. There is no doubt that "Keyword Research" is a part of an advanced SEO. However, it doesn't mean it takes a lot of time or money to get it done. There are professionals that fail many times due to lack of "keyword research". Thus, when it comes to promoting a website it becomes prior responsibility to work on keywords research and its targeted keywords.
Once the SEO experts finalize the targeted keywords based on targeted customers, then only professionals can perform the SEO practices and bring high-quality traffic over the website. But, here the biggest question is how to identify the right keywords? Well, professionals need not worry, there are many SEO right tools available that eventually help professionals to identify the right keywords as per the requirement of targeted customers. Some of the SEO tools are mentioned below:

Google Keyword Planner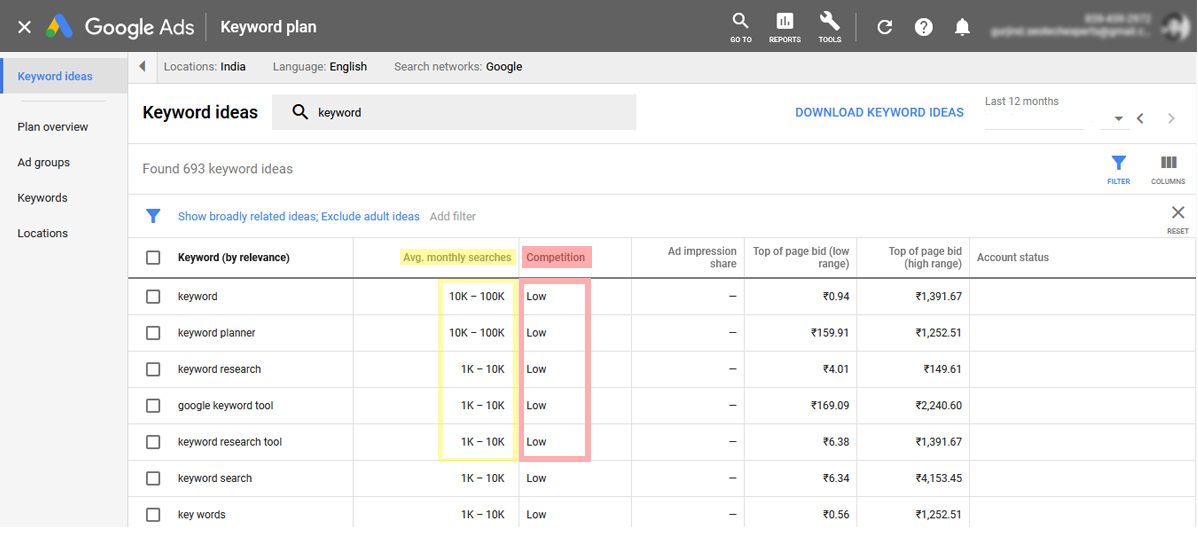 As it is a tool of Google search engine, therefore, professionals can trust the tool and use the fetched keyword's data directly for internet marketing. There is one more option available in the tool i.e. average monthly searches and competition that shows the suggested bid.

Data for SEO is not a tool that will bring you the list of exact keywords that you can use for internet marketing and further promotional activities, however, it provides some API's that enables the professionals to find, analyze and finalize different keywords. The API helps professionals to find an extensive list of keywords ideas and by those ideas, professionals can find the keywords domain-specifically as well as long-tail keywords. By this tool, professionals can fetch hundreds of best keywords out of thousands and then afterward can compare among the hundred keywords that what will be best for them as per their requirement.
Long Tail Pro

It is "The World's Most Complete Keyword Research & Competitor Analysis Software." As Google has introduced its long tail keywords update, therefore it is important to work on Long Tail Keywords as well. By the help of this Long Tail Pro keywords tool, professionals can generate approx.. 800 keywords in the just single search. The tool will help professionals to find the best keywords as the tool assist professionals with its competitor analysis feature and it includes a high level of keywords as well as information to fetch the right keywords as per the requirement.
Bulk Keywords Generator
There are times when professionals just need the assistance to enhance the ranking of their client's website through local searches in such case, bulk keywords generator is the best tool to find the best keywords that help in enhancing the local searches for the client.
SECockpit

SECockpit is one of the best tools to get the best keywords research. This tool is quite simple to use and the unique feature of this tool is that it finds low competitive keywords that eventually help professionals to strengthen the base by uncovering the long-tail keywords. When it comes to finding the fast, efficient and powerful competitive features then it is the best tool to go work on keyword research, content development, and landing page.
Apart from these above-mentioned tools, there are few more tools such as Seed Keywords, Soovle, Term Explorer, Keyword tool dominator, and Hit Tail. Each of these tools is designed to easier the job of SEO professionals and come up with best results for their internet marketing. So, in order to stay strong and have great web presence over the web, it is important to work with such a tool and enhance the Keyword Research to make the SEO perform amazingly.
About This Page
Tips on Choosing the Right Keywords, How do I find the right keywords?, keywords Tool, Best Keyword Research Tool, Google Keyword Planner, Keyword Research, Keyword tool for seo, Bulk Keywords Generator to find keywords, best free keyword research tool, what is keyword research, seo keyword strategy
---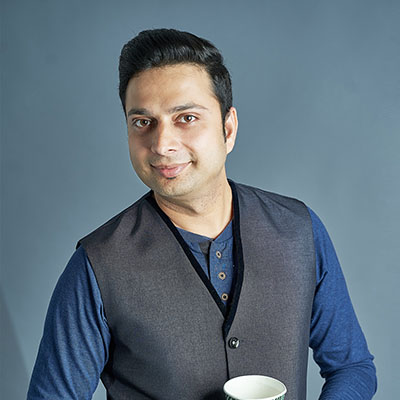 Author Sachin Gupta - Digital Marketing Consultant
Website: www.sachingupta.in
Read More: About Sachin Gupta