How to Create Image Backlinks in a Snap
Images speak a thousand words. And it is all the more accurate in the arena of online marketing! More often than not, it is an image on the digital platform, rather than the plethora of words that describe it, catches our eye, and arouses our curiosity to visit the relevant page associated with it. And the due credit for that goes to the technique of backlinking those images, which simply means attaching one or several links to a single image that can land the surfer to your linked article, post, product, whatever you wish it to come back to. Image backlinks have thus become an essential strategy of digital marketing.
WHAT IS A BACKLINK?
Simply put, a backlink is a link to one website/page/blog/profile from another. An image backlink can thus be explained as an image that is linked to one or several sites/pages.
PICKING THE RIGHT KIND OF IMAGES:
This is a pivotal step in the image backlinking process. Selecting the right kind of image will ensure more significant backlinks and mentions. But it is somewhat a difficult task knowing how to choose the proper mage. For an amateur, seeking help from designer-guided sites like 99Designs or Fiverr will be of great convenience.
Or simply, doing some guesswork and brainwork, images can be selected on the following criteria-
Infographics
Logos
Brand Mascots
Employee Images
GIFs
Memes
Typographs
ENSURING THAT THE IMAGES ARE BEING USED ONLINE:
To maximize the number of backlinks generated, ensuring that the Image is being used enough is necessary. It can quickly be done through some Image Search Tools like TinEye or Google Image Search. Simply uploading the image in either of the tools will reveal a list of pages where the selected image or for that matter, images similar in nature are being used. Alternatively, we can find out the amount of image usage by:
Entering the image(s)' URL
Or using keywords on Google's image search (like "brand + logo" or the image's filename).
These search engines will then publish a list of pages/sites that are using the image selected. List the sites who have used your pictures that didn't provide credits to you, and list them. After that, request them to credit you by linking your image to your profile/site.
LEARNING TO AUTOMATE IMAGE LINK BUILDING:
Using tools like Image Raider, you can quickly get the statistics of image usage as also if anyone new has used your image, which is highly advised. Image Raider has a custom frequency setting option (daily, weekly, monthly) that enables you to automate your process of image checking. To do so,
Add images to Image Raider
Set timing of how often to check (once, weekly, monthly)
Receive email alerts when new occurrences are found
Email the new users asking for a link to your image
MONITORING THE IMAGE SERPs – REVERSE IMAGE SEARCH
Open images.google.com and click on the camera icon in the search bar, which reads 'Search by Image.'
On the pop-up window, paste the image URL or upload the image
Hit on 'Search by Image'
CHECKING IF THE IMAGES ARE ALREADY LINKING BACK:
Image Raider tells you where the images are being used, but not if they are already linking back to your website. Prior to reaching out to these websites, you need to make sure that they are not already linking to you. By using Ahrefs SEO Toolbar, you can easily ensure whether a site contains links pointing to your page.
OPTIMIZING AN IMAGE AND ITS PROPERTIES:
Title: The title of the image must and must contain the desired keyword. It has to be something simple that, at the same time, clarifies what you are trying to bring out.
SRCSET: Source set attribute is, simply put, an awesome image attribute that allows you to set the minimum browser size and the image you would prefer to show up for different formats across different devices, as also modifying them to adjust to a variety of screen ratios.
Alt-text: The description of the image is necessary for this segment in a vivid way to give a clear understanding regarding the content of the image.
Compression: Compressing images hugely boosts page speeds. Using tools like Optimizilla and the likes, image compression can be easily achieved, following which bulk image upload and download can be attained.
PROMOTING THE IMAGES:
The promotion of an image is very vital if you want to master image backlinking successfully. Promoting the images via popular social media sites as well as through popular forums, namely Quora, Pinterest, assuredly will generate huge backlinking.
ANOTHER WAY OF BACKLINKING- IMAGE BOOKMARKING
There exist a lot of image bookmarking sites that enable you to promote your images and generate backlinks in return as well. The likes of Fotolog or Scrap blog offers free photos, which you can link to the image owner's websites.
FINAL WORDS ON BUILDING IMAGE BACKLINKS:
The sole purpose of images is not to merely enhance your sites or domains. They possess a high quality of becoming viral due to their natural share-worthy character. Thus, using images adeptly for purposes of SEO through backlinking or reverse image search can make a heaven and hell difference in your page reach.
A smart marketer will utilize every piece of content collateral created to do the finest link building, be it typography, cartoons, memes, or infographics. Mastering the art of utilizing the various image resources at hand to build multi-link chains give you that extra edge that will take you a long way in digital marketing.
We are in an age of ultra-development in terms of software and digital tools. What's more, we have tons of tools to create almost every type of image, including memes, infographics, charts, GIFs, typographs, word clouds, namely all and every type of content we can imagine. You can use these tools to create excellent visual content, and then people will surely use them and spread them like wildfire, ensuring your benefit as a whole.
---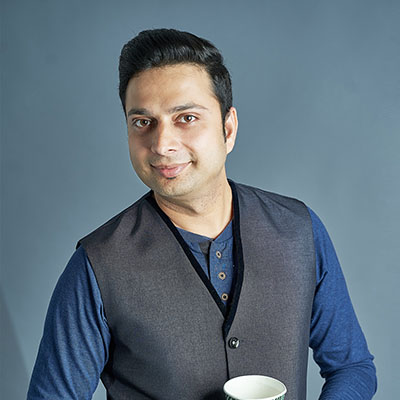 Author Sachin Gupta - Digital Marketing Consultant
Website: www.sachingupta.in
Read More: About Sachin Gupta