Best ORM Course in Delhi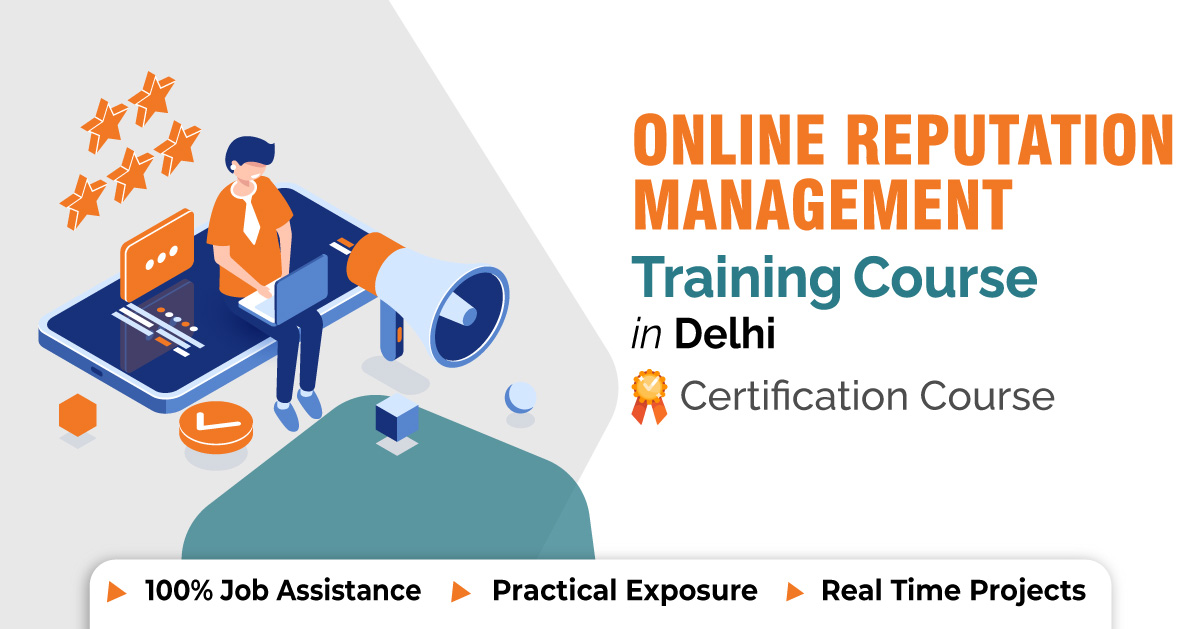 With the rapid growth of the internet, social media, and the number of people who use the internet, big businesses started making websites and apps to reach the millions of people who use the internet every day. Reviews on these sites began to slow the growth of their markets. The online reputation management course covers everything that can be done online to manage a person's, group's, or company's reputation or goodwill.
Online reputation management started as a part of Digital Marketing, but it has since found a place in a different field. Every business wants to make a good impression on users by providing reviews, testimonials, and videos about their products and services.
DM Guru Online Reputation Management Course is made to help young learners, working professionals, entrepreneurs, and business people understand business values, user engagement, review management, and overall reputation management in the market. DM Guru, the ORM course in Delhi has a lot of hands-on learning and is set up in a way that shows students the right way to go for their advanced course. DM Guru will also help you develop your personality, prepare for interviews, write better papers, learn more about the business world, and follow a hierarchical path to a successful career.
Students Can Get Something Out of ORM Course
The most important thing students taking the ORM Course at DM Guru will get out of it.
Master the art of managing your internet reputation.
Each module has a step-by-step learning curve.
Handle day-to-day tasks in the ORM process.
Help businesses deal with online problems, crises, and disasters.
Understand how user engagement works.
Handle adverse reactions from users.
Learn how to rebuild your online brand.
This course goes well with your SEO and digital marketing learning curves.
Learn how to deal with market competition and keep a business going in the long run.
Build a career in the ORM field in a planned way
Why take an ORM course at DM Guru?
DM Guru has increased to become one of the best places to learn about ORM:
Our trainers are well-known in the market for how well they work
One of the best-dedicated institutes for Digital Marketing Studies and Online Reputation Management (ORM) certification learning curve
Top-tier professionals can advise you on current ORM practices.
Follow international curriculum to give students a complete education
Live projects guidance and hands-on training
Top-tier brands' online user engagement and management
Building strategies, planning, and executing ORM policies
Full project evaluation, tracking, and performance analysis
Placement and interview help with mock questions, job openings, and more
Help with placement
At DM Guru, our ORM course in Delhi is focused on getting results and learning by doing. We know that ORM is a crucial part of digital marketing and has a bright future. DM Guru works with many businesses, organisations, MNCs, and corporates and does interviews and placements for different positions in their hierarchy. We also help students get ready for interviews.
FAQs
Do you help with this ORM course and offer placements?
Yes, at DM Guru, we work with some of the best companies in the NCR area to help students get placements, interviews, and training for ORM jobs.
How does managing a business's online reputation help?
Your online reputation will always be there. Businesses try to get the attention of their users. Online Reputation Management (ORM) gives them the right strategies to follow to grow and compete with other market vendors by improving their reputation.
What can I look forward to after I finish this ORM course from DM Guru?
After taking this course, students will know everything there is to know about ORM, including its scope, best practices, and case studies. They will also be ready to get a job in their specific niche.
Dates
Timings
Days
Duration
Price

1 February 2023

-

28 April 2023

10AM - 12PM
M-F

3 Months

₹

18,000

1 February 2023

-

28 April 2023

12PM - 2PM
M-F

3 Months

₹

18,000

1 February 2023

-

28 April 2023

3PM - 5PM
M-F

3 Months

₹

18,000