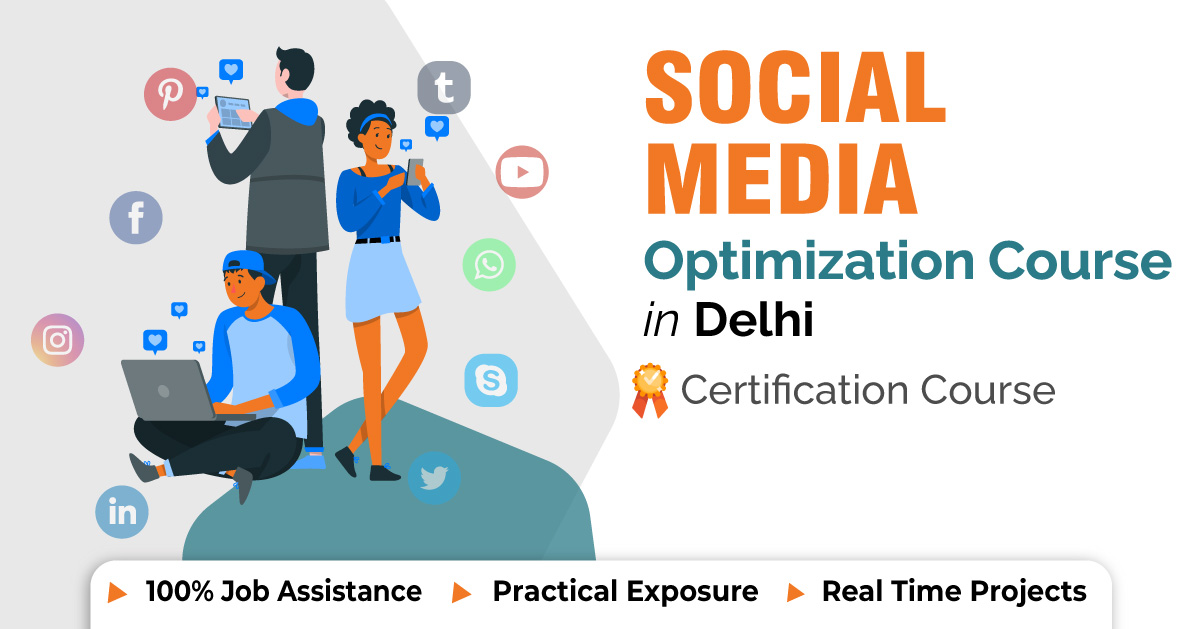 Social Media Optimization Course in Delhi
In search of social media instructors in Delhi who put their knowledge to use in their businesses and who have a firm grasp on the latest trends? We have been providing social media training courses for a long time. What sets us apart is that we are also an active digital marketing agency handling client accounts and training. This allows us to share our best practices with you and stay abreast of the latest developments in the field.
Attend one of our private, on-demand digital skills training courses or seminars in Delhi, and we'll show you how to accomplish more in less time. When you sign up for social media courses with us, you'll have access to Delhi's best social media instructors.
Look no further if you're looking for a social media workshop or course in Delhi with a manageable participant-to-instructor ratio.
Schedule a social media workshop or course in Delhi at your convenience.
We provide public social media training with a predetermined topic and private training in which we tailor the material to your business's specific needs. Check out the public training in Delhi and online training, or get in touch if you want a custom training session designed just for you or your team.
Please don't hesitate to get in touch with us if you have any more inquiries regarding the social media seminars and courses we offer in Delhi.
Why will you learn this
This unit will teach you how to promote your business through social media sites like Facebook, Instagram, Twitter, LinkedIn, and Reddit. With this comprehensive guide, you'll have everything you need to develop a successful social media marketing plan and put it into action for both business-to-business and business-to-consumer firms.
In addition, you'll be able to create effective video creatives and ad graphics for your client's social media marketing campaigns using straightforward online editing tools, and you'll be able to develop an integrated social media marketing strategy for businesses from its inception to its implementation.
By the end of this SMO Module, you will know everything there is to know about advertising on social media, from targeting specific demographics to setting up campaigns in Facebook Ads Manager. You'll get a handle on LinkedIn advertising and marketing strategies and master Twitter and Reddit.
The Finest SMO Courses in Delhi
If you're looking for the best SMO Course in Delhi, go no further than DM Guru. Training in social media optimisation is employing several promotional strategies to raise awareness of a given service, idea, or product. The key is to create business-oriented content for social media sites with a specific demographic in mind.
Your niche market and target demographic are the focal points of your social media optimisation strategy's purview. The goals you hope to achieve and the methods you intend to track as part of your social media optimisation strategy should also be at the centre of your plan. Several tactics can be incorporated into a strategy for social media optimisation. Whether for one's own purposes or those of one's business, careful consideration of one's strategy is required.
Optimisation training for social media can be difficult for companies and individuals alike. The term "social media" encompasses many resources, each offering its users a unique set of options. For their students to feel confident using social media sites and platforms, a training firm must prioritise putting their minds at ease. When it comes to optimising social media, many novices make common errors. These blunders can be detrimental to a company's or an individual's social media marketing efforts.
FAQs
Can Anyone Take the SMO Course?
Participation in this training is entirely voluntary. Despite this, anyone in Delhi with a high school diploma or higher can sign up for an SMO course and learn the fundamentals of social media optimisation. These days, this training is sought after by people in various professional and educational fields, including business owners, job seekers, students, IT professionals, and web developers.
How long will this class last?
About two to three weeks will be spent in class. It could take you a month or two to learn everything there is to know about all of the major social media sites.
Dates
Timings
Days
Duration
Price

1 February 2023

-

20 February 2023

10AM - 12PM
M-F

20 Days

₹

14,000

1 February 2023

-

20 February 2023

12PM - 2PM
M-F

20 Days

₹

14,000

1 February 2023

-

20 February 2023

3PM - 5PM
M-F

20 Days

₹

14,000