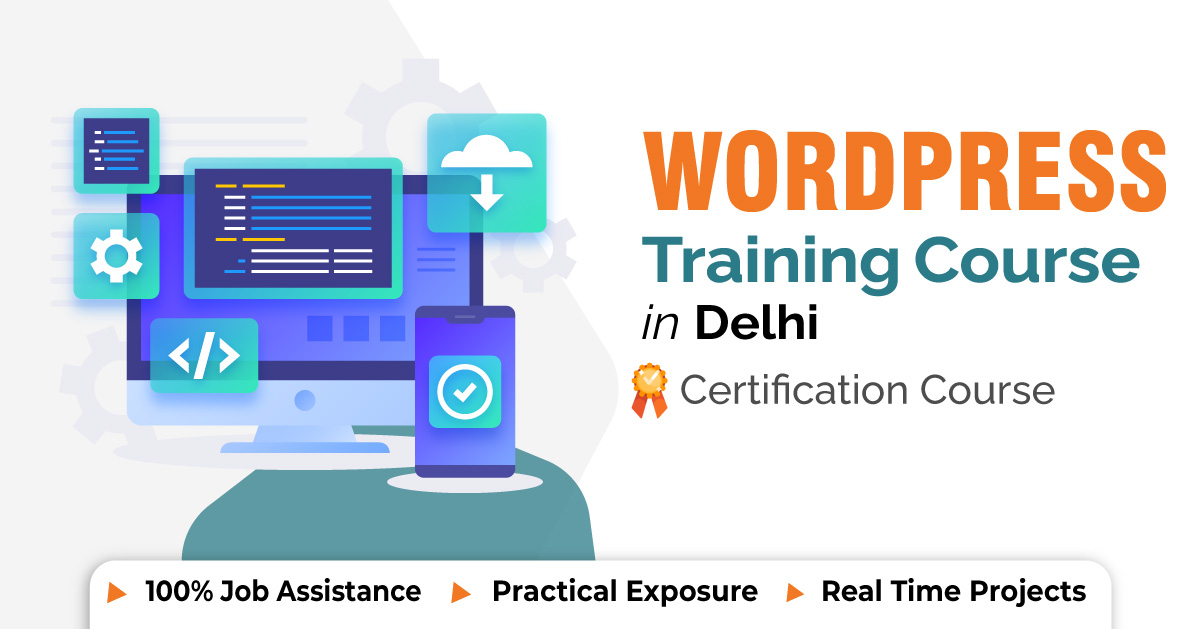 WordPress Training in Delhi
Discover how to use WordPress to create sites that look great and perform well. Our WordPress Training will teach you in a way that you can immediately put to use. Using a hands-on approach that emphasises best practices, you will learn how to build a website from scratch. Classes are led by instructors with extensive expertise in teaching Web Design.
For the best possible education, all our WordPress classes utilise the self-hosted version of WordPress that can be found at WordPress.org. Upgrade to this edition for more power and personalisation options to help you realise your full creative potential.
What's the Point of Learning WordPress?
WordPress is an open-source platform used by millions of web designers and developers worldwide. While WordPress did indeed begin as blog software, it has undergone many changes since its inception. Nearly everyone who wants a website today uses WordPress, and once you get the hang of it, you can do just about anything you want with it. The WordPress site, as well as hundreds of other locations online, offers a wide variety of free themes and plugins that allow you to make extensive changes to your site.
Coaching for WordPress (one on one)
If you already have a WordPress website and need to make changes or add advanced functionality like new plugins or themes, then our WordPress training is for you. Provide a list of the items you need to complete, and we will get to work. The lessons are then modified based on your specific WordPress training needs.
WordPress Training for Novices
Our WordPress crash course will teach you the basics in just one day. We start from zero and create an essential WordPress website that will introduce you to the fundamentals of WordPress, including plugins, themes, and more. Find out as much as you can about Google and search engine optimisation (SEO) for your website.
Learn to Create a WordPress Website
Do you want to learn how to create a WordPress site for your company? Learn everything you need to know to make a WordPress site that looks and functions like a pro!
Coaching for WordPress (Online)
Learning WordPress online is a fantastic alternative if you have a full-time job and cannot take time away from your schedule to attend classroom instruction. Since it can be done without leaving home, it appeals to many people. Moms who stay at home with their children in particular! Using WordPress as a platform, we can train people in far-flung locations. We can educate people across state lines.
Why Choose DM Guru
Smaller Classes
Because of the emphasis placed on providing a one-on-one learning environment, your instructor will allow you ample time to interact with them and ask questions.
Infrastructure and tools
Each convenient location is equipped with state-of-the-art technology, comfortable seating, and the latest audio-visual aids to ensure you get the most out of your course.
Enrolment is simple
You can enrol online at any time, day or night, using a simple 3-step method, and you have up to 7 days before the start of class to alter your mind if necessary.
Effective teachers
Our faculty members have real-world experience, extensive expertise in various fields, and the most cutting-edge methods in their respective fields.
FAQs
Will DM Gurus staff help with the placements?
Our experts have excellent industry relations. Hence, post completion of the course, we go above and beyond to help with placements.
Do we get to work on live projects during the course?
One of the biggest USP of the course is that the enrolled students work on live industry projects to get practical experience.
Dates
Timings
Days
Duration
Price

1 February 2023

-

15 February 2023

10AM - 12PM
M-F

15 Days

₹

14,000

1 February 2023

-

15 February 2023

12PM - 2PM
M-F

15 Days

₹

14,000

1 February 2023

-

15 February 2023

3PM - 5PM
M-F

15 Days

₹

14,000